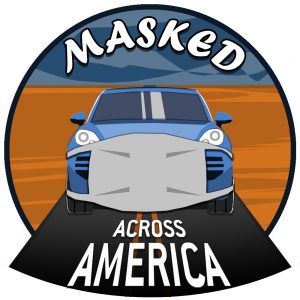 Dateline Redondo Beach, CA. January 15, 2021
"Masked Across America," a cross-country Livestream event that encourages mask-wearing, launches in early February.
Hammad Zaidi, founder of the Lonely Seal International Film, Screenplay and Music Festival, a"Top 100 Best Reviewed" festival on FilmFreeway multiple times, and host of Limping On Cloud 9, a podcast about his life as a disabled person, is driving from Redondo Beach, California to Tampa, Florida in a Porsche Macan Turbo. Hammad is on a mission to discover which cities, towns, and eclectic roadside pit stops are "mask positive."
Zaidi's 6,000 + mile roundtrip journey starts on the edge of the Pacific Ocean in Redondo Beach, then winds through the deserts of Phoenix and Tucson, Arizona, the southern hospitality of El Paso, San Antonio, and Houston, Texas, as well as the cajun-enriched towns of Lafayette and Lake Charles, Louisiana. Hammad will then glide through Mississippi's breathtaking Gulf Coast and Alabama's short but sweet coastline before reaching the end of the 10 freeway in Jacksonville, Florida. Hammad Zaidi will finish by heading south through Orlando to Tampa.
"Our country needs a lot of healing, so hopefully, an upbeat mission like this may instill some much-needed unity," Zaidi said. Hammad Zaidi is writing, directing, producing, hosting, and driving. James Hourigan is also producing alongside Zaidi.
The event will stream on Instagram, Facebook Live, and Lonely Seal Streaming.
For further information, please email hammad@Lonelyseal.com