Who We Are

Way back in the 1970's, Hammad Zaidi and his sister Mona watched a documentary on the clubbing of harp seals. All of the snow-white pups perished, except for one, which they called "The Lonely Seal." Soon thereafter, Hammad began his lifelong quest to help the voices of the few.
In 1997, Hammad Zaidi began producing, and executive producing indie films under the Lonely Seal banner. In the same year, he began a 20+ year journey of serving as a judge, panelist, filmmaker advisor, showcase curator, screenwriting judge, advisory board member, sponsor, and world cinema screener at several film festivals worldwide. These include, but are not limited to, Sundance, SXSW, Slamdance, Nashville, and Flickerfest in Sydney.
In 2005, Hammad founded Lonely Seal Releasing, an international film distribution, and production company and in 2010, he created "Script Accessible," a screenwriting contest for writers with disabilities and non-disabled writers who write about disabled lead characters. "Script Accessible" was showcased at Slamdance in conjunction with the Writers Guild of America-West. The 2010 winner, "All the Wrong Reasons," was produced and went on to win the Discovery Award at the 2013 Toronto International Film Festival.
In 2010, Zaidi created and was the sole writer of "Going Bionic," a film distribution and filmmaker career strategy column which was housed at FilmThreat. 256 of Hammad's articles were published on Film Threat between 2010-2015, and now all 300+ can be seen at GoingBionic.com.
In 2013, Zaidi became a partner at Industry Corporation, the Canada-based multinational video game, software, technology, and entertainment company that developed Designware.io.
In 2017, Zaidi launched Limping On Cloud 9, a very successful podcast based on his life as a disabled person.
In 2018, Zaidi co-founded Hourglass24, a new crowdfunding-oriented technology platform, and entertainment production and distribution company, as well as The Lonely Seal Film Festival.
In 2019, Zaidi is launching Lonely Seal Streaming, a home for independent cinema.
Hammad Zaidi is a member of the Producers Guild of America, the Writers Guild of America, and he is certified as a buyer at many film festivals and film markets worldwide, including Cannes. Zaidi holds a Master of Fine Arts from the UCLA School of Theatre, Film, and Television's Producers Program.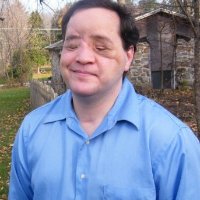 Jonathan Nadeau, CTO, and Festival Director
Jonathan Nadeau, a blind technologist, is the Chief Technology Officer of The Lonely Seal Film Festival. He is also the principal of Nadeau Media, which produced open-source Linux-based conferences at Harvard. In addition, Jonathan Nadeau is the co-founder of Hourglass24, a co-host of the Limping on Cloud 9 podcast, and an executive producer on several films, television and music-related projects in development at Lonely Seal Releasing and Hourglass24.