Documentaries
Limping Blindly Across America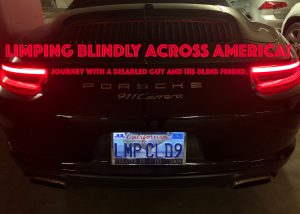 Podcast hosts Hammad Zaidi, a disabled filmmaker, and entrepreneur, and Jonathan Nadeau, a blind technologist, and musician are trekking all over the USA to meet with "wonderfully able" disabled people across the United States. They will live stream and host podcasts along the way. Hammad and Johnathan will explore iconic places like the Grand Canyon and the Rock N' Roll Hall of Fame, and they'll glide through historic highways, hidden pathways, and breathtaking mountainous regions. They will also attend concerts, sporting events and even local community events like "Bingo," as they meet wonderfully eclectic people from coast to coast and beyond.
Status: Pre-Production
Vision: The Jonathan Nadeau Story

This film documents how going blind in a car accident at age 14, made Jonathan Nadeau "open his eyes" like never before.
Status: Development.